China: 70% of Shanghai residents may be Covid-19 positive, says top doctor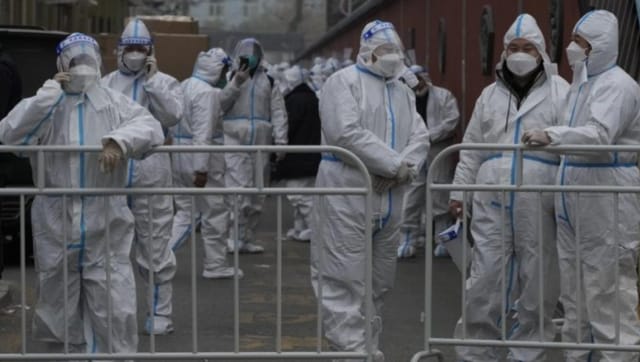 Shanghai: The increasing cases of coronavirus in China have spread panic all over the world. Meanwhile, Chinese media reported on Tuesday that a senior doctor from Shanghai's top hospital has said that 70 percent of the population of China's megacity Shanghai may be infected with Covid-19.
Covid-19 infections spiked across China last month after years of draconian Zero Covid restrictions with little warning or preparation and quickly filled hospitals and cremation grounds.
Chen Erzhen, vice president of Ruijin Hospital and a member of Shanghai's Covid expert advisory panel, estimated that most of the city's 25 million people could be infected.
"Now the spread of the epidemic in Shanghai is huge, and it may reach 70 percent of the population, which is 20 to 30 times higher than it was (in April and May)," he told the Communist-owned Dajiangdong Studio.
Shanghai suffered a gruesome two-month lockdown in April, during which more than 600,000 residents were infected and many were moved to mass quarantine centres. But now, the Omicron variant is spreading extensively across the city and experts predict that the infection will peak in early 2023.
In other major cities, including Beijing, Tianjin, Chongqing and Guangzhou, Chinese health officials have suggested the wave has already peaked.
Chen said his Shanghai hospital received 1,600 emergency admissions a day – double the number before the restrictions were lifted, 80 percent of them Covid-19 patients.
"More than 100 ambulances come to the hospital every day," he was told, adding that almost half of emergency admissions were for vulnerable people over the age of 65.
According to an AFP report, at Tongren Hospital in downtown Shanghai, patients were receiving emergency medical care outside the entrance of the overcrowded facility on Tuesday.
Chinese officials are bracing for a wave of the virus in China's low-resource rural areas, as millions of people prepare to return to their hometowns for the week-long Lunar New Year public holiday that begins on January 21. In an interview with CCTV on Monday, National Health Commission (NHC) official Xiao Yahui acknowledged that dealing with the peak of the epidemic in rural areas would be a "huge challenge".
"What we are most concerned about is that in the past three years no one has returned home for the Lunar New Year, but finally they may come back this year," Xiao said.
"As a result, there could be a substantial increase in urban residents traveling to visit their relatives in rural areas, so we are even more concerned about a rural epidemic."
He also acknowledged the pressure on hospital emergency departments and promised that officials would coordinate medical resources to ensure the treatment of patients in low-funding areas. Meanwhile, more than a dozen countries have imposed Covid testing restrictions on travelers from China after Beijing announced it would reopen its borders from January 8.
Several countries including the United States (US) have also cited the lack of transparency around infection data and the risk of new variants as reasons for restricting travelers. China has recorded only 22 Covid-19 deaths since December, and at the beginning of the month drastically lowered the criteria for classifing such deaths.
"China has always been committed to scientific criteria for identifying deaths from Covid-19 from beginning to end, which are in line with international standards," Xiao said.
Read all the Latest News, Trending News, Cricket News, Bollywood News,
India News and Entertainment News here. Follow us on Facebook, Twitter and Instagram.